Just Drop It in the Pot
in Case of Fire
This fire extinguisher is perfect for home-use and is easy-to-use for anyone, from children to seniors.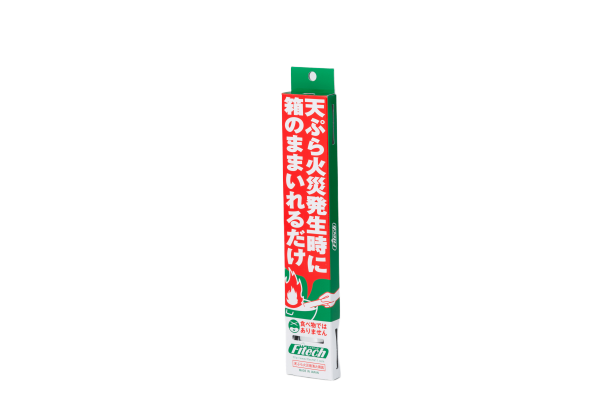 Key Features
1

Easy enough to use for anyone

3

Eco-friendly
ingredients
1

Drop it in the pot to put out fire

Tempura oil can be dangerous because it ignites at 350°C. Pouring water on flaming oil can lead to an explosion and/or cause serious injury. This product extinguishes oil fires and can be easily used by simply putting it into a burning pot.

2

Easy to dispose of after use

Turns to a gel after extinguishing fire. Can be disposed as burnable trash after cooling.

3

Safe and eco-friendly ingredients

Made with materials that meet even the safety standards of food additives, you can reuse pots that have had a fire put out with this product.
Product Details
Product Name
Fitech Kitchen
Volume
1.5L
Weight
80ml
Active Ingredients
Potassium carbonate and other substances
Shape
Bar-shape
Odor
Almost none
Environmental considerations

Meets food additive level safety standards

Compliant with RoHS Regulations, COD, BOD, and Environmental Standards